Hand made terracotta tiles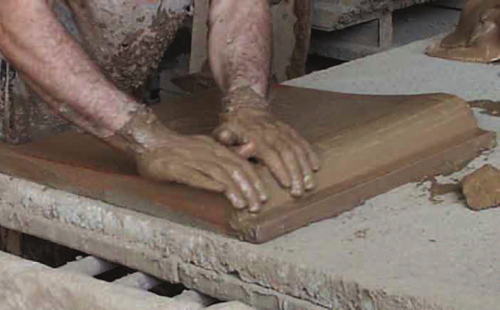 Originality lies in the return to roots. (Antoni Gaudi)
Most part of our terracotta collection is hand made, following hundreds of years of traditional techniques. Every single tile is shaped by hand into wooden mold and air dryed in shelves for 6-8 weeks (depending on shape, size and weather conditions). Tiles are fired in ceramic furnace at high temperature. All the final surface treatments are applied individually by hand. As a result, you recieve charming and durable tile, of unique qualities and easy maintenance.
Pedralbes and Glamour series are already supplied with waterproof and stainproof final treatment, using only natural wax, applied by hand, which makes the installation of the tiles even more easier. Glaze, acrylic varnish or any other treatment is not used nor recomended. The final product looks and feels warm, natural, elegant and sophisticated. Hand made terracotta has its typical color varations and imperfections in the same piece of tile and between tiles of the same production lot. It is the artisan answer to industrial production. It retains ability to breathe at low porosity and maintains its high decorative value.
This extraordinary collection is divided in two series: Pedralbes and Glamour.
You can also find other hand made series in Traditional terracotta section and several series in Tuscan terracotta section.